Creamy Smoked Chicken, fennel and Gruyère cheese pasta
March 12 2018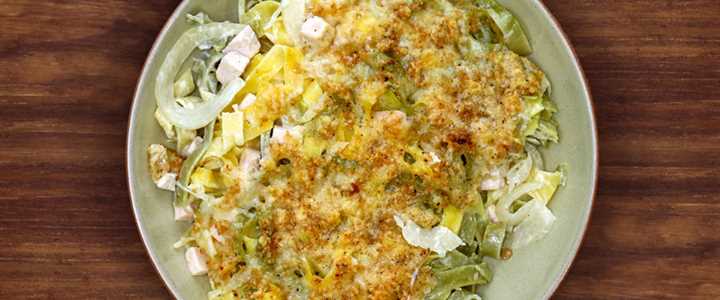 Creamy Smoked Chicken, fennel and Gruyère cheese pasta.
Ingredients (serves 4):
1 tbsp. butter
2 smoked chicken breasts, skin removed and diced
1 bulb of fennel - cleaned and finely sliced
250g tagliatelle or pappardelle pasta
200ml crème fraiche
Half a lemon, zest and juice
Half a glass white wine
100g grated Gruyère cheese
50g breadcrumbs
(most contained in our Smokehouse Spring Box hamper!)
Method:
In a large frying pan, melt the butter. Add the fennel and cook over a low heat for 5-6 minutes until softened, then add the white wine and reduce by half. Meanwhile, bring a large pan of salted water to the boil and cook the tagliatelle according to the pack instructions.
Add the diced smoked chicken, crème fraiche and lemon zest to the frying pan, stirring to combine with the fennel. Season with freshly ground black pepper. Once the pasta is cooked, drain and add to the other ingredients in the frying pan, stir until well combined and coated in the sauce.
Spoon into a pre-warmed oven-proof dish, then top with the grated Gruyère cheese and bread crumbs. Place under a hot grill until the cheese melts.
Serve immediately with some rocket, fresh crusty bread and a chilled glass of the Pinot Grigio.