Delicious pickles from the Fine Cheese Co.
November 07 2016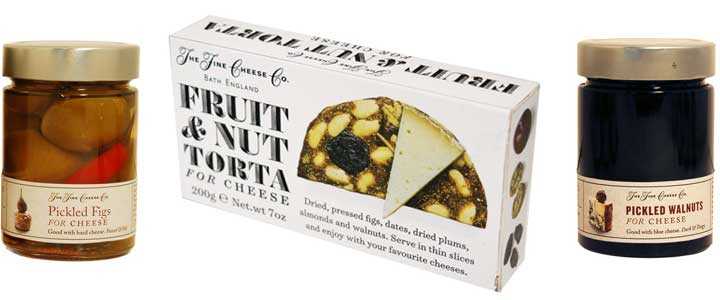 The Cheshire Smokehouse is now offering some extra special pickles, selected from another family business based in Bath – the Fine Cheese Company.
This 20 year-old Somerset producer of fine hand-made cheeses also offers a wide selection of accompaniments from which the Cheshire Smokehouse has made a selection to help stimulate the festive taste buds.
English Pickled Walnuts
In sweetened vinegar, to flatter cheese. Add crunch to a ploughman's, or class to a cheese-board.
Pickled Figs for Cheddar Cheese
Figs in spiced & sweetened cider vinegar. Makes cheddar a new experience. Most bottle fruits come either in syrup/alcohol and are too sweet, or come in spiced vinegar and are too acid for cheese. These figs are pickled in a vinegar base creation of a sweet/sour balance which complements different cheeses perfectly. The ultra-soft texture and underlying sweetness of the figs are a fabulous contrast to a full - flavoured mature Cheddar.
Fruit & Nut Torta.
Inspired by cheese, created in Spain. This Spanish cheese accompaniment from Murcia, is made from dried, pressed fruits and nuts and a touch of aniseed. It is delicious with Manchego, or any hard cheese where its fruity, sweet intensity is a foil for the creamy, rich saltiness of the cheese.