New treats from Brindisa include Serrano Ham and Gazpacho
October 26 2016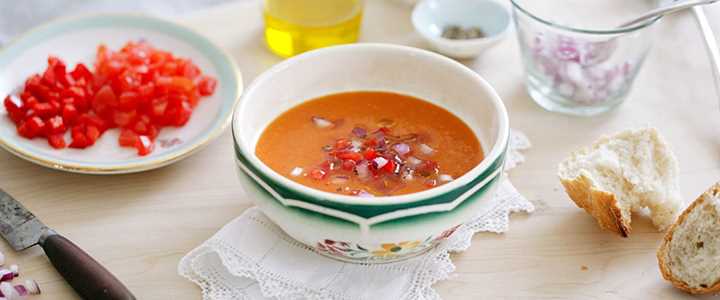 We have two new delicious additions to the Smokehouse Shop from long-time friends of the shop Brindisa, who have been supplying delicious Spanish produce for over 28 years.
The Trevelez Serrano Ham is some of the finest cured ham that comes from the Spanish mountain area of Andalucía. Fresh hams are trimmed and cleaned, then stacked and covered with salt for about two weeks in order to draw off excess moisture and preserve the meat from spoiling. The salt is then washed off and the hams are hung to dry for about six months. Finally, the hams are hung in a cool, dry place for eighteen to 24 months, depending on the climate, as well as the size and type of ham being cured. The drying sheds (secaderos) are usually built at higher elevations, which is why the ham is called "mountain ham".
See more about this delicious Jamon at their website. You will find cuts in store at the Cheshire Smokehouse along with the chorizo and other cured meats.
Brindisa have also added a classsic Andalusian Gazpacho to their stable - also now available from the Cheshire Smokehouse. Made from the finest fresh ingredients including tomatoes, cucumber, extra Virgin Olive Oil, onion, green pepper, red pepper, garlic, sherry vinegar, sea salt and lemon juice.
These are blended into a smooth and refreshing Gazpacho that can be taken as a drink or from a bowl. Add some herb garnish or as the Brindisa website suggests "Further embellishments loved by some include some drops of extra olive oil and even a tot of very dry chilled sherry. Sometimes extended to 2 tots with the second bowl."
You don't have to go to Spain for this we have some in store!