Recipe: Peach, Lambs Leaf, Mozzarella and Pancetta Salad
October 21 2016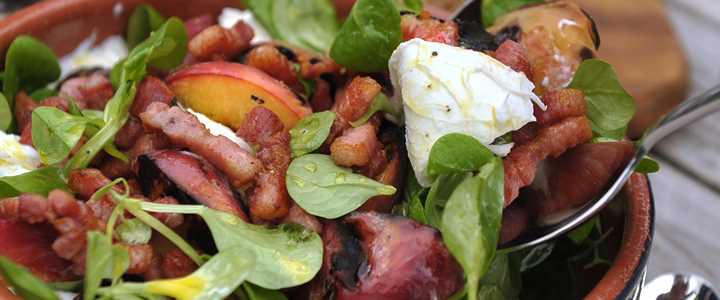 No barbeque is complete without a summer salad. This peach, lambs leaf, mozzarella and pancetta option is so simple to prepare and works well with all meats, fish, chicken etc.
Ingredients:
4 ripe peaches, stoned and cut into quarters
Lambs leaf lettuce – enough for 4 (also works with watercress or rocket)
2 balls of buffalo mozzarella cheese – torn into chunks
100g pancetta – cubed and fried until crisp
Dressing:
3 tablespoons light flavoured olive oil
1 tablespoon good white wine vinegar
1 teaspoon Tracklements mayonnaise
1 teaspoon sugar
Salt and pepper.
Heat a griddle pan until very hot then place the peach pieces cut side down and fry for 1 – 2 mins then turn to colour the other side. Leave to cool slightly.
Dress the lambs leaf in a large bowl with approx 1/3 of the dressing than arrange onto 4 plates. Add the torn mozzarella and griddled peach then add more dressing to taste. Scatter with the pancetta cubes and pour yourself a large glass of wine. Best eaten while the peach and the pancetta are still warm.
This is a perfect accompaniment to rich Lamb or game dishes.