Recipe: All-day Breakfast Pie
October 23 2016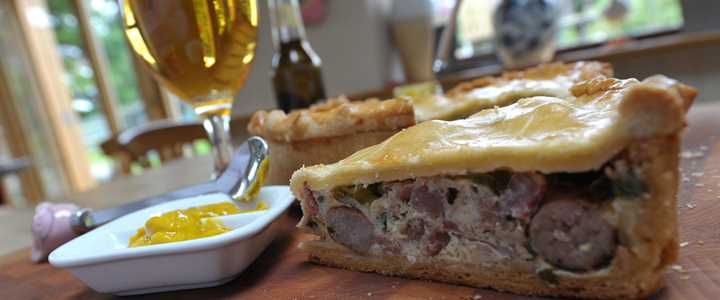 Truly a 'have it any time of the day' recipe, this pie is fantastic hot or cold with a mug of tea, some of our malted granary bread and butter, and a tangy mustard or chutney. Find our foolproof shortcrust pastry recipe below too, alternatively you could use an all butter ready-made / rolled shortcrust pastry.
Serves 4 - 6
Ingredients:
550g Cumberland Sausage
200g Smokehouse Sweet Black Back Bacon
4 eggs
3 spring onions chopped
Black pepper
Method:
Cut the sausage into 1 cm chunks and quickly fry just to colour. Slice the bacon thinly and fry quickly, again just for 2 minutes. Roll out the pastry to fit an 8" loose bottomed flan ring leaving the edges overhanging.
Lightly beat the eggs adding a pinch of black pepper, the chopped spring onion, sausage and bacon. Carefully pour the mixture into the pastry base. Roll out a lid to fit and brush a little beaten egg on the edges then crimp the top trimming off any excess pastry. Cut two small holes in the top and brush all over with more beaten egg. Bake in a pre-heated oven at 180oc for 35 - 40 minutes, or until the pastry is golden brown.
Fool-proof Shortcrust Pastry
250g plain flour
125g unsalted butter
75ml cold water
Pinch of salt
Mix the flour, salt and butter until it reaches crumb consistency then add the cold water to bring the dough together. Chill for 1 hour in the fridge before use. Roll onto a well floured surface to approximately 4mm thick. When preparing for the oven dish, cut about 1/3rd larger than the flan ring requires and overhang the edges.