Chicken Tikka and Red Pepper kebabs with Pomegranate Raita
April 22 2018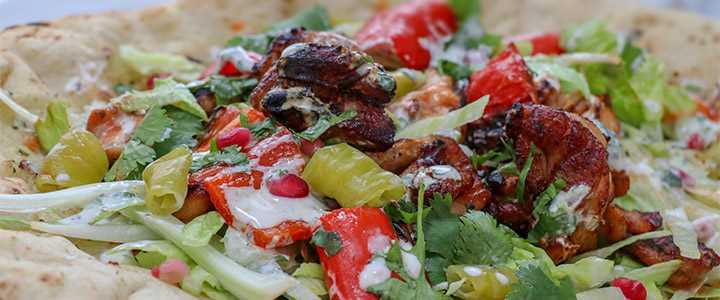 A great chicken tikka recipe, delicious cooked on the barbecue, or on a griddle and then finished in the oven.
Ingredients:
4 Cheshire Smokehouse Tikka marinated Chicken Thighs (or breasts)
1 Red Pepper
500ml Greek Yogurt
1 tsp cumin seeds, toasted and ground
Large handful of mint leaves
Handful of coriander leaves
Seeds of 1 Pomegranate
1/2 tsp salt
1/2 tsp sugar
To serve:
Naan Breads (or flatbreads)
Shredded Iceberg Lettuce
Pickled chillies (optional)
Chilli Sauce (optional)

Method:
Combine the yogurt, cumin, chopped mint and coriander leaves, pomegranate seeds, salt and sugar in a large serving dish. Loosen with a little water if you wish.
Thread the chicken thighs and the red pepper onto kebab skewers. Barbecue or grill over a high heat for 10-15 mins, turning half-way through, until nicely charred and cooked throughout. If necessary, finish in a hot over for a few minutes.
To serve, heat the naan breads or flatbreads in the oven for 2-3 minutes. Place some shredded lettuce on them, slide the chicken and peppers from the skewers and drizzle some of the Pomegranate Raita over the top. Finish with some pickled chillies, chilli sauce and extra Pomegranate seeds if you wish.