Recipe: Sweet Chilli Chicken Baguette
October 25 2016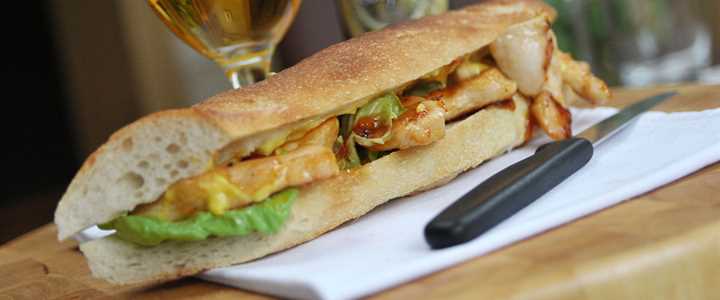 One simple idea for a really exciting snack with flavours that mean you will want this time and time again. It is the favourite of the Smokehouse staff.
This uses Chorchaba's Thai Sweet Chilli Sauce which can be found in the Smokehouse Shop. Best eaten naked in the bath as you will be covered in the yummy hot sticky juices!
Ingredients:
1 chicken breast skinned and sliced
2 tablespoons Chorchaba's sweet chilli sauce
1 dollop of Tracklements Mayonnaise
1 smokehouse baguette
1 handful chopped iceberg lettuce
Salt and pepper
Add a splash of olive oil to a hot frying pan and quickly cook the strips of chicken adding some salt and black pepper. After 2 - 3 minutes add the chilli sauce and give a quick stir then leave on the heat for the sauce to caramelise a little, then put on one side.
Slice the baguette and arrange the sticky chicken on the bottom piece, not forgetting any of the fantastic juices. Now spread the mayonnaise over the top adding the lettuce at the last minute. Serve with an ice cold Warsteiner beer from our wine department, oh and a packet of wet wipes!