Recipe: Roast Belly Pork with Asian Spices
October 21 2016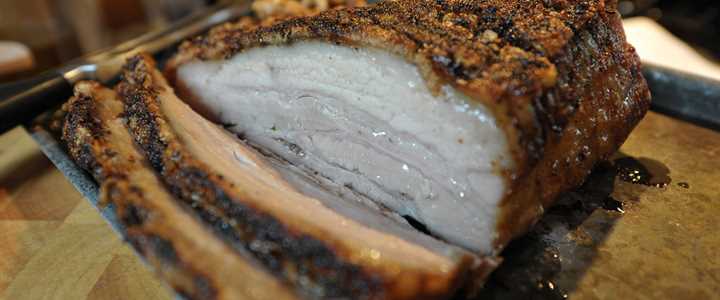 Serves 4 - 6
Don't be put off by the amount of spices in this recipe - the Asian flavourings really come through the belly pork, which can be quite rich. Use a good quality Teryaki sauce - the one we used here is from Annie Chun's range of Asian sauces, available in the Smokehouse Shop.
Ingredients:
1 x 1.3 -1.5kg belly pork (boneless and scored)
2 teaspoons fennel seeds
2 teaspoons five spice powder
2 teaspoons cracked black pepper
2 teaspoons course sea salt
1 jar Teriyaki sauce
Chopped spring onions (garnish)
Method:
Pre-heat oven to 150oc.
Crush the fennel seeds in a pestle and mortar and add the five spice, pepper and salt. Rub onto both sides of the pork belly, and place onto a baking tray. Cook at 150oc for 3 hours then turn up to 185oc for 40-50 minutes or until the crackling becomes crisp. (You can speed up this process by placing under a hot grill but be careful not to burn). Leave to rest for approx. 15 minutes. While the pork rests, heat the Teriyaki sauce in a small pan. Slice the pork into thick slices and serve with steamed rice and some steamed Pak Choi. Drizzle with the Teriyaki sauce and scatter with the chopped spring onions.