Roast Carrot Salad with Salsa Verde
April 22 2018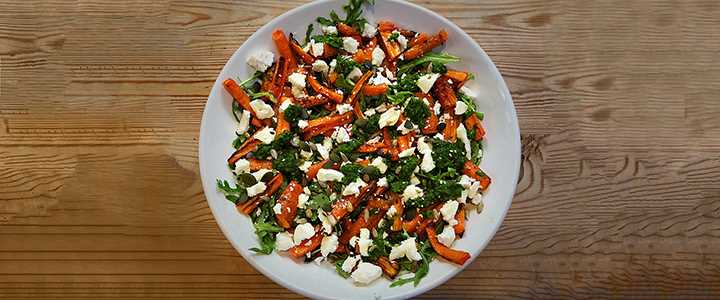 A delicious recipe courtesy of our friend Gemma Wade (@gemcwade on Instagram) - great with any of our summer barbecue style recipes. Serves 4 as a side dish or starter.
Ingredients:
8-10 large carrots
a drizzle of olive oil (around 2 teaspoons)
Maldon sea salt and freshly ground black pepper
120-170g (4-5 ounces) Chévre – a soft goats cheese or Lancashire cheese
Around 4 teaspoons of the best runny honey you have
2-3 teaspoons of red or white wine vinegar
4 handfuls (about a bag) rocket (arugula) or watercress
Salsa verde:
60g (3 ounces) flat leaf parsley (Italian parsley in the US) – stalks and all
60g (3 ounces) of basil – stalks and all
A pinch of sugar
3-4 tablespoons good olive oil
1 heaped teaspoon Dijon mustard
2 heaped tablespoons drained nonpareille capers
red or white wine vinegar to taste –1-1 ½ tablespoons added gradually
Method:
Heat your oven to 180°C fan / 200°C regular or 350°. Scrub but don't peel the carrots then chop the leaf end off but leave the bottom end on. Depending on the size of your carrots, cut them lengthways into half or quarters. Lay the carrots on a metal baking sheet and drizzle them with oil then toss them and sprinkle them with sea salt. The better spaced they are, the quicker they will cook and the better they will brown rather than just steaming. Roast for 30-45 minutes depending on the size of your carrots.
While your carrots cook, make your salsa verde by putting all the salsa verde ingredients into a food processor or mini chopper and blitzing until smooth. You will be left with a bright green sludge. Taste it after it is blended and add more vinegar or salt as needed. See my note above about why you can be heavy with the acid. Set aside – it is fine on the side for a few hours or in the fridge for a few days.
When your carrots are soft and golden with dark brown edges they are ready. They should be a little sticky and turning floppy. To assemble, scatter the rocket or watercress over a large platter, season with salt and pepper and a splash of vinegar then lay the carrots on top. drop thumbnail sized chunks of the cheese over the carrots. Use a spoon to take honey and then, holding it around a foot over the plate, drizzle it over the carrots. Holding it high means you'll avoid getting big lumps of honey in one spot.
Finally, drop small blobs of the salsa verde over the carrots. Finish with a sprinkle of vinegar over the whole platter and a final grind of black pepper and sprinkle of Maldon salt. Serve at room temperature.
Recipe courtesy of Gemma Wade
@gemcwade on Instagram
www.yousaytomatocooking.com