Smoked Salmon, Honey-cured Bacon and Mango Chutney Tartine
April 03 2020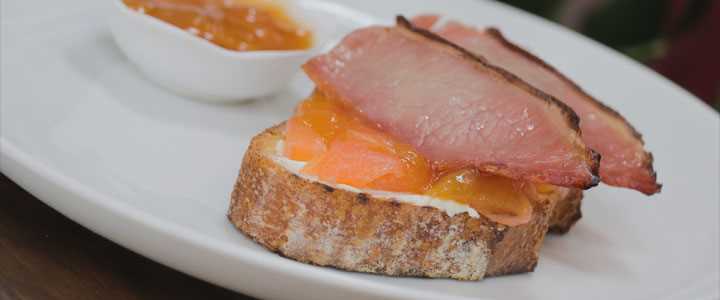 A quick and delicious brunch or supper using some of the most popular products in from the Cheshire Smokehouse. A real favourite in the Smokehouse Café and our bar, Smoke. Watch the video below and pick up a recipe card in the Smokehouse Shop soon:
Serves 2.
Ingredients:
100g pack of Cheshire Smokehouse Smoked Salmon
4 rashers of Cheshire Smokehouse Honey Cured Bacon
2 slices of Cheshire Smokehouse Sourdough Bread
100g good Cream Cheese (such as Longley Farm)
1 jar of Tracklements Indian Mango Chutney
Method:
Toast the sourdough bread in a toaster, or for best results, on a hot, dry griddle. Grill the bacon until crisp and keep warm.
Spread the toast with the cream cheese. Tear the smoked salmon into rough strands and arrange randomly on top of the toast.
Dollop a good tablespoon of the mango chutney on the salmon and top with 2 slices of the warm hone-cured bacon.
Serving suggestion:
Great with a good cup of tea or a glass of chilled Einstock Icelandic white ale.